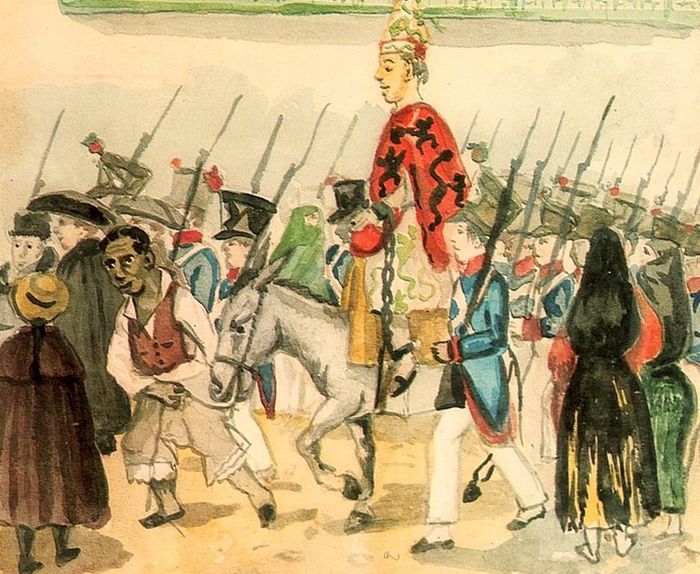 Salvador did not leave his patient, encouraging her with cheering words to bear her pains with fortitude. Pedro, ill at ease, was watching die street, near the horses which were dozing with their heads low down.
At ten o`clock at night a long telegram came for the jefe politico. As he was reading it his hands trembled slightly. Suddenly a violent exclamation broke from his lips.
On hearing it, the people present got up as though to ask the cause, hut the jefe politico without speaking a word conducted his father-in- law to a neighboring room. There, without any preamble, he told him that his son had been killed in the attack of the night before, and that lector Salvador Moreno was supposed to have been his slayer, and I hat he was then trying to escape from the country.
I he poor old man, falling limp into a chair, wept bitterly over the death of his son. After a while he aroused himself with an expression of unspeakable wrath and the tears dried up in his eyes, which now shone like red-hot coals. "Salvador Moreno," he murmured in a ImarseVoice. "I won`t forget that name."
I have heard it," said the jefe politico. "I believe it is that of a young doctor recently come back from Europe."
One of the women neighbors interrupted the conversation with the (dad news of the birth of a strong and healthy man-child. Both were King in to see it, but it was not yet time for them to enter.
Pedro, always uneasy, had hardly heard the news when he went in search of Nor Josd to ask him to remind his companion of the urgency starting.
Exclaimed with fury
"Tell Don Salvador that it is already very late and that I am waiting for him," he said forgetting to use the assumed name. On hearing this name the old man became petrified. Then he exclaimed with fury:
"Don Salvador! Don Salvador Moreno! That`s the doctor`s name, isn`t it so?"
"Yes. Did he tell you?"
Without replying, `Nor Jos6 went to a corner of the room where a machete was leaning against the wall. He drew it from its scabbard and with an expression of unheard-of ferocity went toward the apartment of his daughter.
At that moment, the door opened. Upon the bed lay the mother, very pale, but her eyes and lips were smiling. With his sleeves rolled up and absorbed in his task, Salvador was bathing the new born child in a wash basin. On seeing this the angry father felt a surge of generous feeling invade his heart. That man was the slayer of his Rafael; that was the terrible truth; but that same man who had shed the blood of his son had just saved another bit of his soul at the risk of his liberty and perhaps of his very life. He stood looking at the peaceful scene; the happy mother, the anxious and busy neighbors, and the doctor, very earnest, coddling the child, whose cries seemed to ask pardon for the savior of its mother.
The old man drew back slowly, letting go of the machete. After a moment of hesitation, he passed his rough hand across his face and drawing near to the fugitive said in a hoarse and trembling voice.
"Don Salvador, I beg you to go soon, because you are in great danger in this house."
Read More about Turkish War part 4