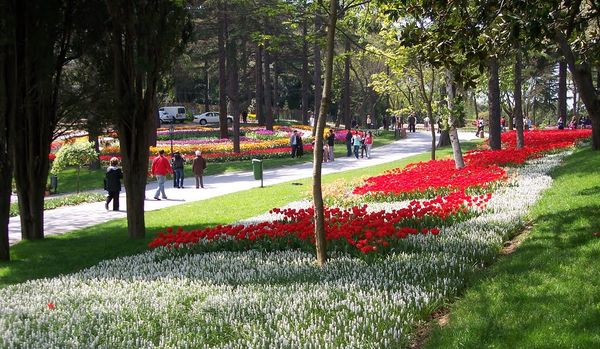 The Yildiz Grove
Sultan Selim III built a pavilion named "Yildiz" -meaning the Star- for his mother Mihrisah Sultan in this grove he admired in the 18th century. It was followed by other pavilions and "kasir`s. There are pools, waterfalls and ponds in the covert. Some of the trees are 400 years old. The flowers, dominantly tulips, create grove a carousal of colour.
The Romantika Fenerbahce Park
The Romantika Park on the Fenerbahce peninsula is a an undertaking by Turing and hears the signature of Celik Gulersoy. The Park which serves in both an open and a closed area has a breathtaking view of the Princes Isles from the front side. In summers you can enjoy the beautiful geraniums in the garden while the winter panorama accompanies you under the glass covered inner side during cold weathers. You can taste the life in Istanbul by listening to the intoxicating tunes of classical music in the freshly green park.
The Emirgan Grove
Emirgan Korusu covers an area of 325,000 square meters that has many pine, cypress, fir, umbrella pine, willow and lime trees. It also houses some historical pavilions. The grove is like a heaven on earth.
The Cubuklu Grove
The grove in Beykoz can also be considered a small forest. Rare pines, firs and cedars call the people of Istanbul in their cool shades. Misir Hidivi Abbas Hilmi Pasa Sarayi in the covert is a real architectural masterpiece. It is possible listening to nightingales in the covert during spring months.
The Naile Sultan Grove
The grove between Ortakoy-Kurugesme has the name the daughter of Sultan Abdulhamid, Naile Sultan. The grove where the history and nature embrace is decorated by several kinds of valuable trees and flowers as well as a magnificent pavilion.
The Mihribad Grove
A 2 5-hectare area covered by trees, overlooking the Bosporus, in Kanlica. There are monumental cypresses, umbrella pines, bay-trees and Judas trees.
The Gulhane Park
Gulhane, once was a rosary shelter and garden development establishment for Ottoman Palace in that era This garden has been renovated in 2003 and turned back to its glorious and magnificent times once again. Today, Gulhane has huge green grass areas, flower gardens and viewing terraces to Welcome its its visitors and gift them with a peaceful atmosphere.
Read More about Veliko Tarnovo – legends and reality