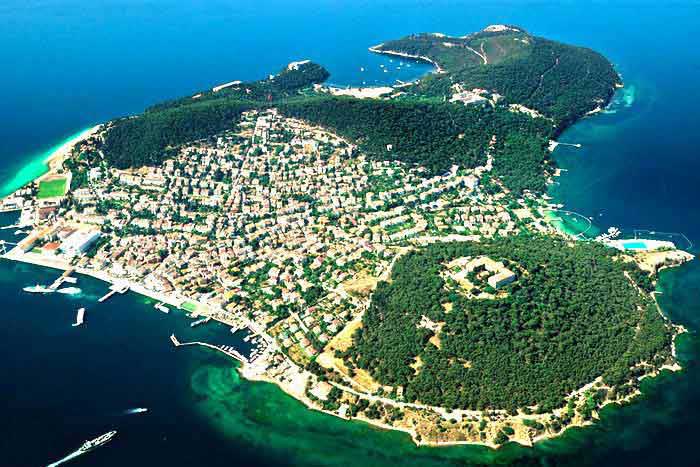 The 'saddlebag' that makes a holiday perfect – walking tour Istanbul
Heybeliada, Heybeli ada or simply Heybeli is the greenest and the second biggest island of the Princes' Islands and it can be part of customized Istanbul tours. It is in the Sea of Marmara, near Istanbul. Actually, the Princes' Islands are only an hour away from Istanbul. Heybeliada has always been a favourite summer resort during Byzantine and Ottoman eras. During the different historical periods it had different names.
During Byzantine Period the island was known as Khalkitis or Chalki. Chalki comes from the Greek word chalkos, which means copper. Once upon a time there used to be copper mines which are no more in use nowadays, but they explain the name of the island. Turkish name – Heybeli, means 'saddlebag'. This time the name is given because of the low place between the hills.
There are nine islands in the Princes' Islands group and the ferry stops at four of them only. A daily private tour easily can be arranged for Heybeliada or Buyukada city tour istanbul.
The most beautiful and impressive one is Heybeliada. What a release and surprise it is for the visitor when they step on the island and see no car traffic. To prevent the islands from becoming polluted the only motorized vehicles allowed are the ones of service (fire, rubbish, police, ambulance). Transportation is generally provided by traditional horse-drawn phaetons, and the roads on the island were designed for walking and cycling. You can have peaceful and enjoyable Walking Tour Istanbul on the island walking tour istanbul.
Turkish Naval Academy
Turkish Naval Academy, founded in 1773 is situated on the island. And there are two interesting pieces of architecture on the grounds of the school; – one is Kamariotissa (or the Monastery of Virgin Mary) – the only remaining Byzantine church on the island, and more importantly the last church to be built before the conquest of Constantinople and the other one is the grave of Edward Barton, the second English Ambassador sent to Constantinople by Elizabeth I of England. He spent his last days in Heybeli in order to escape the plague raging through the city in 1598.