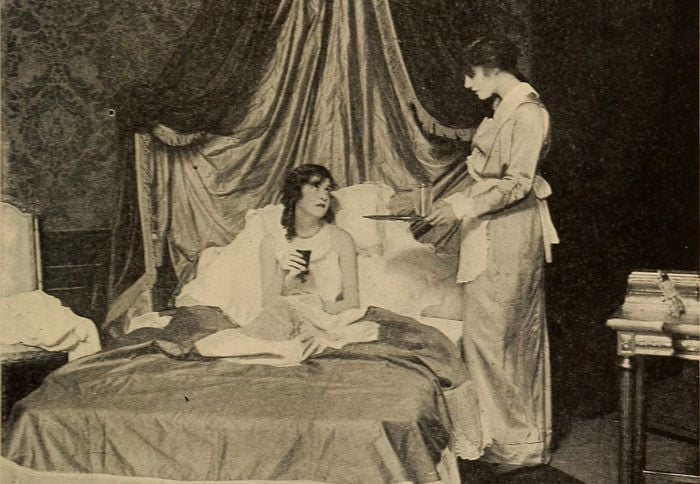 The old soldier murmured something and lit his pipe.
"No, she was as pure as God`s angels," continued the other. "It is you and I who are the guilty ones. Listen to me. It is now forty-three years ago; you had just been ordered here as captain to Berlin, and I Wits teaching at the University. You were a gay bird then, as you know."
"Him," remarked the host, raising his trembling old hand to his mustache.
"There was a beautiful actress with great black eyes and little white teeth—do you remember?"
"Do I? Bianca was her name," answered the other as a faded smile flashed over his weather beaten, self indulgent face. Those little white teeth could bite, I can tell you."
"You deceived your wife, and she suspected it. But she said nothing and suffered in silence. She was the first woman who had come into my life since my mother`s death. She came into it like a shining star, and I gazed up to her in adoration as one might adore a star. I found the courage to ask her about her trouble. She smiled and said that she was not feeling quite strong yet—you remember it was shortly after the birth of your Paul. Then came New Year`s Eve—forty three years ago tonight. I came in at eight o`clock as usual. She sat over her embroidery and I read aloud to her while we waited for you.
Terrible Silence
One hour after another passed and still you did not come. I saw that she grew more and more uneasy, and began to tremble. I trembled with her. I knew where you were, and I feared you might forget the hour of midnight in the arms of that woman. She had dropped her work, I read no longer. A terrible silence weighed upon us. Then I saw a tear gather under her eyelid and drop slowly down upon the embroidery in her lap. I sprang up to go out and look for you. I felt myself capable of tearing you away from that woman by force. But at the same moment she sprang up also from her seat—this very same place where I am sitting now.
" `Where are you going?` she cried, terror in every feature. I am going to fetch Franz,` I said. And then she screamed aloud: Tor God`s sake, you stay with me at least—don`t you forsake me also.`
"And she hurried to me, laid both hands on my shoulders and buried her tear be dewed face on my breast. I trembled in every fiber, no woman had ever stood so near me before. But I controlled myself, and soothed and comforted her—she was so sadly in need of comfort. You came in soon after. You did not notice my emotion, your cheeks were burning, your eyes heavy with the fatigue of love. Since that evening a change had come over me, a change that frightened me.
When I had felt her soft arms around my neck, when I had felt the fragrance of her hair, the shining star fell from its heaven, and—a woman stood before me, beautiful, breathing love. I called myself a villain, a betrayer, and to sooth my conscience somewhat I set about separating you from your mistress. Fortunately I had some money at my disposal. She was satisfied with the sum I offered her, and—"
Read More about What Vasile Saw part 2