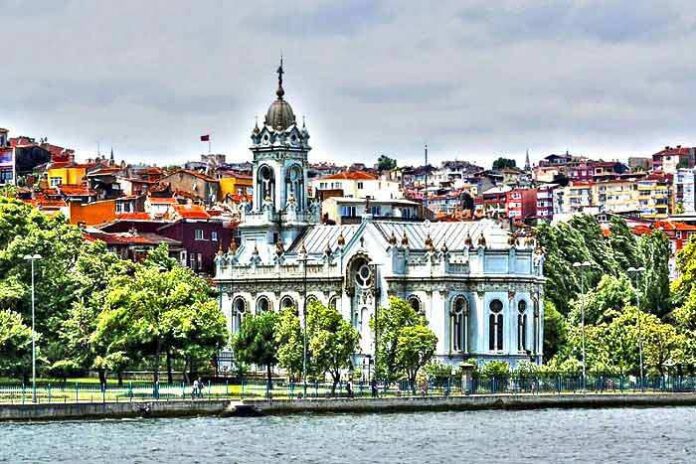 Customized tours Istanbul – Church Sveti Stefan
Christianity in Turkey has a long history. Anatolia had always been the cradle of Christianity. It is the birthplace of many Christian Apostles and Saints. It is also the birthplace of many interesting stories during customized tours Istanbul. Particularly Ephesus played a vital role in the spread of the religion. It was one of the seven churches of Asia, the site of several 5-th century Christian Councils.
The Bulgarian Orthodox Church Sveti Stefan (also the Bulgarian Iron Church), was ready in 1898 after one and a half year of work. It is on the shore of the Golden Horn between Balat and Fener squares (near Eyup district). The public could see it on 8 September, the same year due to Exarch Joseph.
The conquest of the Balkans
With the conquest of the Balkans all the Bulgarian lands went under the authority of the Ottomans. Before that Bulgaria had always had constant connections with Eastern Thrace. Then its lands became part of the Ottoman Empire. Because of that, the Bulgarian colony in the capital of the Empire, Istanbul, became bigger. Among Bulgarians it was famous as Tsarigrad. The colony consisted of mostly craftsmen and merchants. Istanbul was also the centre of journalism and enlightenment for the Bulgarians. This and other interesting stories can be heard on Istanbul private tours istanbul city tour.
Cradle of Christianity
As mentioned above, Anatolia has always been the cradle of Christianity. And that is the truth. Thousands of religious pilgrims from all over the world visit Turkey every year. That is because Turkey is the place where Paganism ruled. Then, a new religion, Christianity, slowly replaced it. After that, with the arrival of the Selcuks, Islam rooted in the lands of Turkey. This wasn't an obstacle for the rest of the population of the Ottoman Empire, who professed different faith, to have their places for praying. Thus, in Istanbul there were other churches and synagogues as well – Aya Yorgi Fener Greek Orthodox Patriarchy Church, the Armenian Church, the Jewish Synagogue. Customized tours Istanbul keep interesting stories of that time customized tours istanbul.