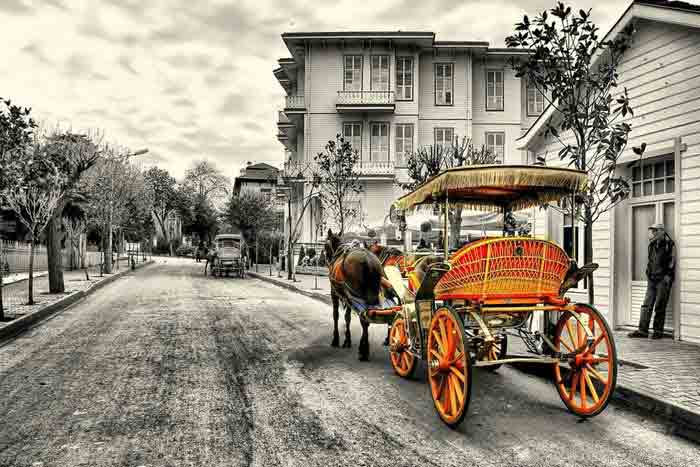 Where time stands still!
Buyukada is an island from the Princes' Islands group of nine islands. As it is, it can be part of Istanbul private tours. Unlike the cosmopolitan city of Istanbul, Buyukada is a symbol of tranquility, serenity. Istanbul is so busy with all the cafes, shopping centres, big buildings, everything that a modern human can think of. While Buyukada (in fact, the Princes' Islands or 'Adalar', like Turkish call them) is a ploace where life has stopeed. It is like a harbour where 'past' settled down and doesn't want to leave. Past, well-preserved and ignorant of new technologies or people's modern desires.
Buyukada is in the Sea of Marmara, not far away from Istanbul sightseeing. There is population on four of the islands only. And the islands all have Greek and Turkish names. Buyukada is the Turkish name of the island and it means Big Island, as it covers an area of 5.4 km². Due to its size, the island is the biggest in the Princes' Islands group and can be one of the places to visit on Istanbul private tours. 'These Isles of the Princes lie in sight of Stamboul and its splendours, and of the mountains of Asia, dominated by the Mysean Olympus istanbul private tours.
American Congressman
They are glorious in physical loveliness…', Samuel Sullivan Cox – an American Congressman who was Ambassador to the Ottoman Empire in 1885. Just like on the other islands there is no car traffic on Buyukada. To prevent the islands from becoming polluted, the only motorized vehicles allowed are the ones of service (fire, rubbish, police, ambulance). Transportation is in fact, traditional horse-drawn phaetons. Also, the design of the roads on the island is suitable for walking and cycling.
Prinkipo in Istanbul private tours
Earlier name, the Greek name of the island was Prinkipo. The Byzantine Emperor Justin II built a palace and monastery on Buyukada in A.D. 569. He was the "prince" who gave the Princes' Isles their name. The Byzantine emperors used Buyukada as a place to exile their enemies. However, most often the enemies used to be their relatives. Also, they were statesmen who might have threatened the emperors' political power. On the other hand, interesting is the story of the Byzantine Empress Irene who ruled the empire as a regent and as a monarch. Although an orphan but with great personal accomplishments, Irene married the Emperor and at his death she became Empress-Guardian of all Eastern Empire istanbul private tours.