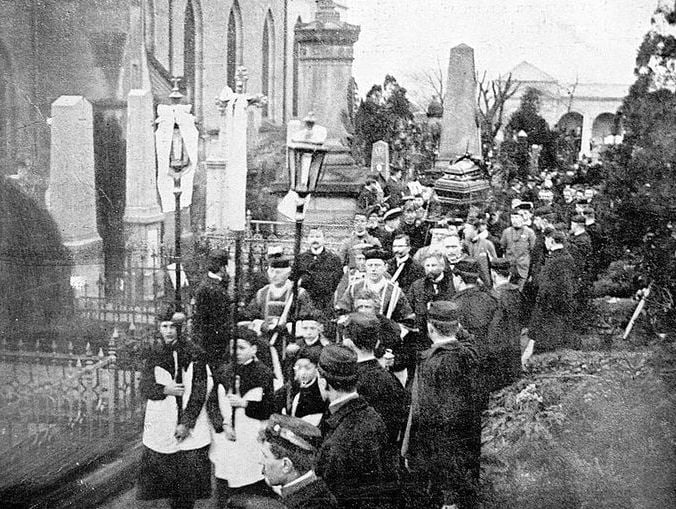 In the carriage sat a gentleman and a lady. He was of middle age, wore elegant black clothes and had a smooth, oval, white face with deep shadows around the eyes. He appeared fatigued and sleepy, and yawned at times. The lady was young, a fresh-looking brunette with a fiery, active glance. She was dressed in light colors and with a sort of humorous, coquettish smile she gazed all around.
When they entered the driveway, where practically all the occupants of the castle welcomed them with respectful curtsies, the dark gentleman fixed his weary, drowsy eyes on old Foltyn who stood in the foreground with loosely hanging mustaches, with endless devotion in his honest blue eyes, and with an expression of contrite grief in his wrinkled face, his patriarchal drum at his hip..
The baron looked intently for a while at this interesting relic of the inheritance from his ancestors, then the muscles of the languid face twitched and his lordship relieved his mood by loud, candid laughter. The bystanders looked for a moment with surprise from the baron to the gate-keeper and back again.
Then they regarded it as wise to ex-press their loyalty by blind imitation of his unmistakable example and they all laughed the best they knew how. The steward and his wife laughed somewhat constrainedly, the light-minded Beruska and the coachman with the lackey, most heartily. Even the baroness smiled slightly in the most bewitching manner.
Old Foltyn at that moment presented a picture which it is not easy to describe. He looked around several times, paled and reddened by turns, patted down his cape and gray beard in embarrassment and his gaze finally slid to the fatal drum. It seemed to him that he com-prehended it all. He was crushed.
Nobility betook
After a few condescending words to the others the nobility betook themselves to their quarters, leaving for the time being on the occupants of the lower floors the impression that they were the most handsome and the happiest couple in all the world.
After a while we behold both in the general reception-room. The master rocks carelessly in the easy-chair and sketches a likeness of old Foltyn on the covers of some book. The baroness, holding in her hand a naked antique statuette, looks about the room searchingly.
"Advise me, Henry. Where shall I place it?"
"You should have left it where it was."
"Not at all! We are inseparable. I would have been lonesome for these tender, oval, marble features."
"But if you haul her around this way over the world she won`t last whole very long."
"Never fear! I`ll guard her like the apple of my eye. You saw that I held the box containing her on my lap throughout the journey."
Read More about Bulgaria Vacations