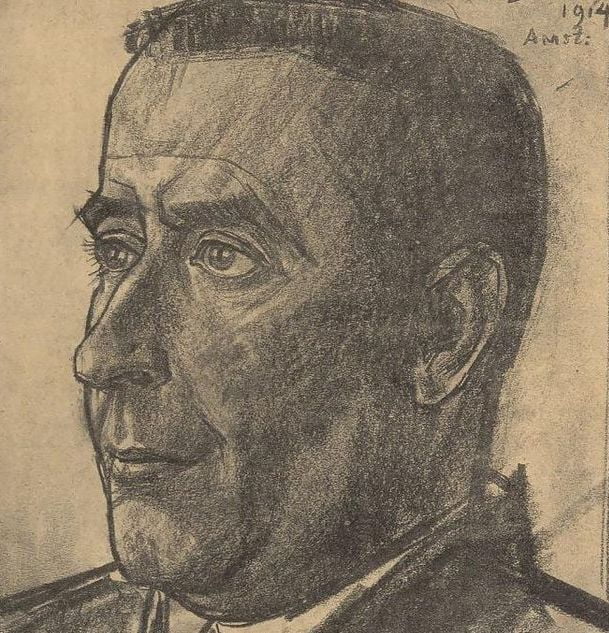 Herman Heijermans (1864-1934)
Herman Heijermans, Jr. made his literary debut in 1892 with a peasant novel, and though he continued to write fiction for many years, he was chiefly engaged in writing plays and, in later life, in managing his own theatre in Amsterdam. His now famous Sketches, first issued under the pseudonym of Samuel Falkland, are known simply as "Falklands." These are quaint and homely tales of the life of the lower middle classes.
Grandfather`s Birthday Present is one of the most delightful of these "Falklands." The present version was translated by Dr. A. van C. P. Huizinga, especially for this collection. It is included by permission of the author`s heirs.
Grandfather`s Birthday Present
(From Sketches, by "Samuel Falkland")
"Door as they all were, not one of the family had ever been able to rise even to a moderate state of prosperity. It was an invariable rule among them to be constantly on the lookout for some miraculous turn in the tide of fortune by which the chronically empty coffers might be suddenly replenished.
Jet, the eldest daughter, had for a while been most successful, until her husband was sent to the hospital. It was her idea to give grandfather a new Bible with a gold-plated clasp, while each of the grandchildren should give him some inconsiderable trifle. This plan entailed no excessive outlay, which might be regretted later on.
Dirk was the next. He was six years younger than his sister. Three other brothers and sisters had moved away while their mother was yet alive. Dirk thoughjt little of sister Jet`s proposal; he was of the opinion that if grandfather were to have a Bible with a gold clasp, he would none the less continue to use the old Bible he had always read out of with his wife. Besides, Dirk had ideas of his own; everyone had a right to his convictions; he had not been inside a church for years, and he would certainly vote against the Bible.
No, if they were all to join in making one gift, it was necessary to have eveiyone`s assent. Now, he had seen a perfectly stunning armchair in the window of a furniture store, where all the prices had been reduced twenty per cent. In giving the old man this, a few well-chosen words could be offered on the peculiar fitness of passing the last years of his life in rest. Besides, the chair in which he read his newspaper over by the window was a wreck; the springs were actually sticking out.
Read More about Forebodings Two Sketches part 1