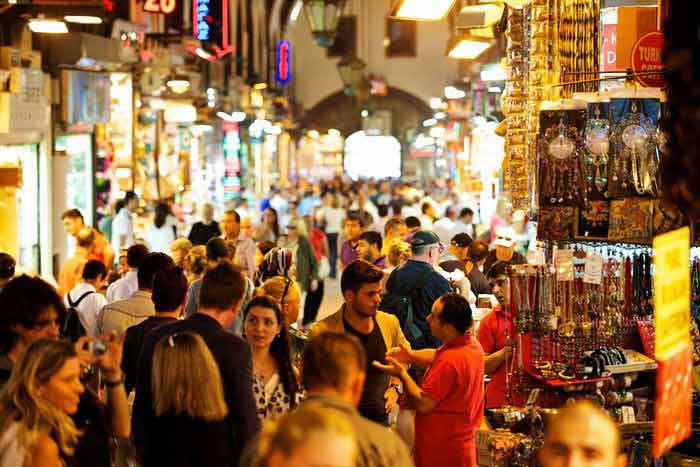 Walking Tours Istanbul – Funny, relaxing and stress-taking
Another pleasant thing to do in Istanbul on Walking Tours Istanbul or sightseeing Turkey is shopping. You need patience, good sense of humour, money and some skills in bargaining
One of my favourite walking tours in Istanbul is from the Grand Bazaar north downhill on Longmarket Street (Uzuncarsi Caddesi) through the Tahtakale district to the Golden Horn and the Spice Market (Misir Carsisi).
Our first stop will be Grand Bazaar. There are more than 4000 shops there. Although you need a couple of days to see everything inside, we will only spare 2 hours to get the taste of it in your private daily shopping tour of Istanbul customized istanbul tours.
While we are leaving the Grand Bazaar we can see Tahtakale (during the week). You can see a busy street full with men with telephones. They buy and sell foreign currency, not little amounts but millions. In their language Yumos (softener) means Euro, Yesil (green) means Dollar, Kralice (queen) – English pound.
You cannot see these in Ephesus but you can experience something different in sightseeing Ephesus. You can use the time machine to take you centuries back and try to imagine how ancient people did shopping and bargained then; how they had fun, where they used to live…
Get into Mahmutpasa
We will get into Mahmutpasa where you can see lots of locals. It is probably the most reasonable place for shopping in Istanbul. You can see suits, dresses, wedding dresses, coats and even one of the most interesting things – costumes of the boys for circumcision walking tours istanbul.
While we are walking down Mahmutpasa woith tour guide Istanbul, you can enjoy the atmosphere or do little bit of shopping.
Right after Mahmutpasa we will get into Spice Market (Misir Carsisi). We call this a sweet stop. In Spice Market we will try lovely Turkish delights and learn about the spices that you can get from there. Spice market is not so big and it can easily get so busy. Bargaining is difficult. Everything has price on it, but you still can try…