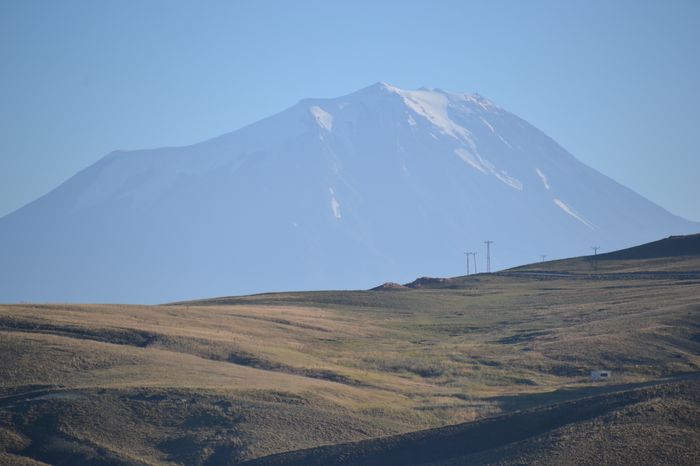 On the way back from the festival, the rain turns into hail for a short time. Pamuk Mountain is surrounded by fog. Then the somewhat clarifies and the clouds are removed and the foggy sun appears again. We are proceeding towards Kul Yusuf Mausoleum.
The mausoleum is located within a graveyard, which has been totally destroyed, located in 11 kilometers north of Igdir, in the west of Cakirtas Village. From the scripture, carved in Arabic in a rectangular frame over the gate of the mausoleum, it is understood that it was constructed for a person named Kul Yusuf in 890 A.H. and 1485 A.D.
Treasure hunters, wild lilies
Other than the places we travel for two days, we see incidents, which attract our attention and -makes- us think. The most interesting of these, is that we face the same question, wherever we go: "Is there any gold?
If there is, let us know…" This is their first question when they see a "foreigner" in the region (they also call teachers as foreigners). Many people have come with old maps in their hands and have found gold.
The second point is the wish of the residents of Igdir to pass freely to Erivan and to make bilateral trade. They believe that this will develop their regions in every sense. However, this is impossible due to diplomatic reasons. Another issue is the Metmazur Nuclear Power Plant, in Armenia, located on the border with Igdir. This power plant makes the residents of Igdir nervous. According to the rumors, in a village, close that region, 50 percent of the babies are born with a disability. For the closure of the plant, signature collection campaigns are held in Igdir.
And our trip comes to an end… On the way back, mountain lilies bid us adieu. In the books, this flower is named as "Parlak Susen." When you see these flowers in the rocky and sunny ridges on Igdir route, stop your car and watch this beauty for some time…
Read More about Ascension to Korhan Plateau