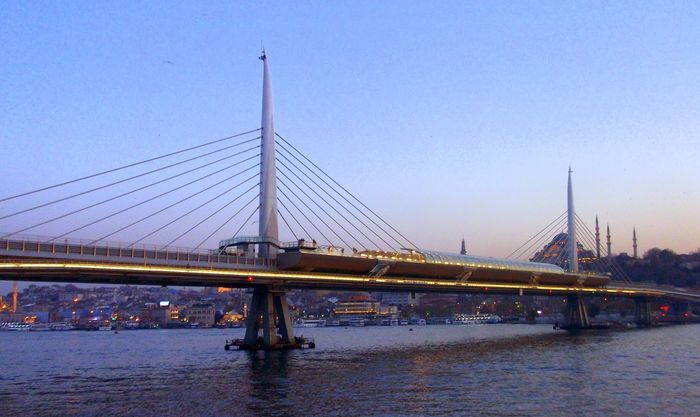 Journey to the history of Pop his songs have been performed by many singers. And now legendary Paul Anka is in Istanbul!
For more information about the Paul Anka concert on November 14
Istanbul Golden Horn Convention Center is hosting a living legend the evening of Monday, November 14: Paul Anka, composer of memorable songs like My Way, Diana and You Are My Destiny. Listed by Billboard magazine as one of the all-time great musical icons alongside Elvis Presley and The Beatles, the Canadian singer has sold over 80 million hit albums and singles.
Anka, who earned gold records in England, France and Canada for his album, Rock Swings, on which he sings pop and rock hits from the 80`s and 90s like Michael Jackson`s The Way You Make Me Feel, the Pet Shop Boys` It`s A Sin, Oasis` Wonderwall and Nirvana`s Smells Like Teen Spirit, all in his own inimitable style, is in Istanbul for a veritable journey through the history of pop music.
Istanbul`s Fifth Bridge
If you`re wondering when a fifth bridge is going to be built in ıstanbul or about eating trends in the city, just stop by salt Beyoglu by the end of December. Salt Beyoglu`s very comprehensive exhibition, Istanbullasmak (Becoming Istanbul), is seeking to answer visitors` questions about the city. With a conceptual framework by Pelin Dervis, Bulent Tanju and Ugur Tanyeli, the exhibition consists of an interactive database with some 400 media entries from numerous personal and private archives.
Accessible at database becomingistanbul.org, the database includes news clips, documentary films, comics, architectural projects, photo series and artists ` videos produced between 1999 and 2011. The exhibition includes two auxiliary features that also seek answers to questions about Istanbul. At the one called 90, participants can engage in debate in the form of talks, tours, presentations and performances. The other auxiliary feature is Construction Phase: Beyoglu, in which the urban transformation projects planned for the district are discussed through a city planning game.
It`s November and the concert season is under way. It`s a good idea to follow the schedule because there`s a lot not to be missed!
Sevket Akinci & Mutant
Made up of seven guitarists, Mutant is a band that aims to go beyond the usual guitar sound. Doing more improvising than playing regular compositions, Mutant is at Borusan Muzik Evi with Sevket Akinci on November 4.
Paco de Lucia
Leading Flamenco guitarist Paco De Lucia is at Is Sanat on November 29. The 1947-born guitarist started learning the guitar when he was five and gave his first concert at age 11.
Canizares
Composer of the music for films by legendary directors like Carlos Saura, Canizares earned big kudos as well as the Spanish Academy Is award for his compositions for the Spanish National Ballet. Canizares is at Cemal Resit Rey Concert Hall November 3.
Read More about Bulgaria private tours