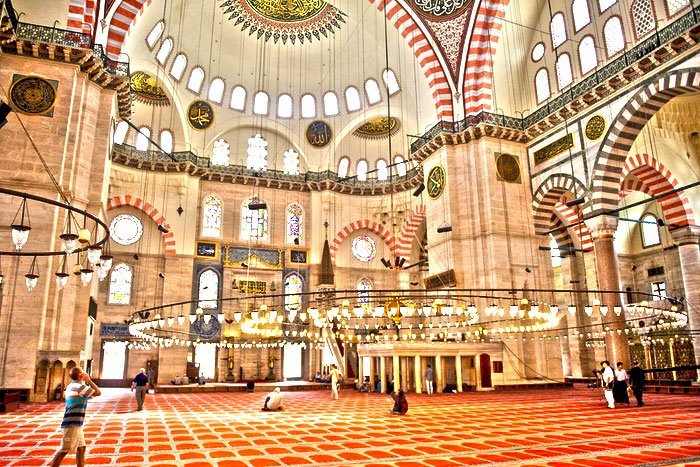 Some of the mosques in Istanbul reach out the sky while some others are hardly noticeable due to their small size. Some old churches had begun serving as mosques after the Ottomans conquered the city. The most splendid ones of these mosques are accepted to be national monuments and are not used for religious purposes today.
Kalenderhane Mosque
Kalenderhane Mosque that is around Bozdagan Kemeri (Aqueduct) was allocated for dervishes during Ottoman period. Bozdogan Kemeri (Aqueduct) was built by the end of the 12* century. The mosaics and pictures that were found during the restoration, including a Franciscan Epic have not been open for visitors yet.
Fethiye Mosque
Theotokos Pammakaristos, The Joyous Mother of God, from I2th-i3th century was the centre of Orthodox patriarchs. The church was converted to the mosque in 1591. The southern chapel with mosaics is worth to see. Among these mosaics are the Christ Pantocrator, surrounded by twelve prophets and the Deesis (mosaic of the last judgment) showing Christ in abscissa, the Virgin and St. John the Baptist are especially attractive.
Kucuk Ayasofya Mosque
Kucuk Ayasofya was a church devoted SS. Sergius and Bacchus, two Roman soldiers, originally Syrian, martyred for choosing Christianity, before it was converted to the mosque. The church was built only a few years before than Haghia Sophia; it can easily be understood that the possibilities of building the main dome is explored during its construction.
The dome is standing on piers forming an octagon with 16 spherical and flat pendants as well as concave sections; it opens to a square that is surrounded by a two storey vault but not properly symmetrical. It is only the marble coverings and columns remained from its rich interior decoration.
Beyazit Mosque
Beyazit Mosque is the oldest sultan mosque of Istanbul that was built by Sultan Beyazit II, the son of Fatih Sultan Mehmet between 1501-1506.
A construction that reveals the tendency dome architecture due to Haghia Sophia. The front court, square shaped with pointed vaults is attractive. The entrance to this court is through a ornamented stalactitelike domed gate, similar to examples from Selcuks. There are 24 domes on 20 antique columns made of green porphyrit, red porphyry and pink granite. The hospice that is part of the complex at the entrance of the university between the theological school (medrese) and Sahaflar (Jarsisi serves as a library today.
Fatih Mosque
The mosque that had been built by Fatih Sultan Mehmet on the fourth hill of the city collapsed after an earthquake and rebuilt in 1770. The inner part of the mosque is disappointing; besides, there is very little left from the complex that contained the eight Koran schools, Turkish baths, kitchens, a caravanserai and a hospital. The front court with plane trees and the entrance gate is from the times of Fatih Sultan Mehmet. Apart from these, the tomb of the sultan is worth to see.
Read More about At the Well Part 5