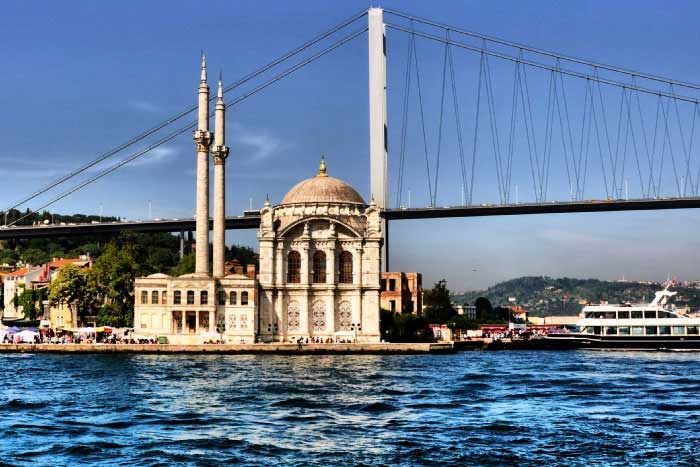 Ortakoy, the 'middle village' that housed different religions and nations
Daily tour Istanbul – Ortakoy (Middle Village) is just like its name. It was in the middle of all different religions and nations – Muslim, Jewish, Orthodox and other Christian ranking. Turks, Greeks, Armenians and Jews all lived there nicely and in harmony.
Nowadays it's like a night-out place where you can find nice places with reasonable prices. For the daytime it is nice to have a Turkish coffee on one of the rooftop cafes with the breeze from the Bosphorus. Night time it is the place of baked potatoes, nice beer and a tequila shot in Raina – famous night club. So, whether you have your private tour of Istanbul daytime or in the evening, Ortakoy is always a nice stop to have. It might not be in tours Istanbul but you can always ask for Ortakoy istanbul old city tours.
Neo-Baroque style Ortakoy Mosque – Daily Tour Istanbul,
The Neo-Baroque style Ortakoy Mosque is just like built on the water of Bosphorus. Being the mosgue of janissaries some unpleasant things had happened there. For example, young Osman, who was one of the Sultans of Ottoman Empire had been killed there before he was taken to Yedikule prison for an execution.
Ortakoy was the site of George W. Bush's speech during the NATO Summit of 2004, which he delivered at Galatasaray University. An interesting fact here. Talking about famous people, it's impossible not to mention Ephesus. If Ortakoy was the place where George W. Bush made his speech, then Ephesus was the place where Elton John sang daily tour istanbul.