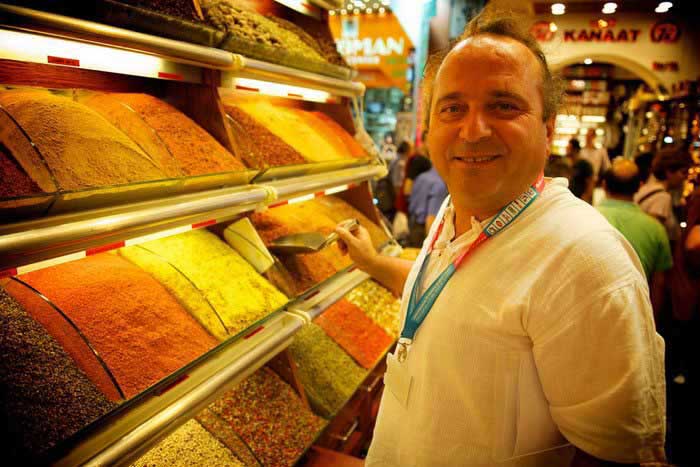 Spice up your life!
Looking for a nice place to do some shopping in Istanbul and you'd rather visit it with local guide Istanbul private tours?! Or you might be looking for a colourful location in Istanbul?! The Spice Bazaar – a world of spices and smells is where you can enjoy these both. Misir Carsisi, the Spice Bazaar, is the second largest covered market after the Grand Bazaar. It has been a must-see destination in Istanbul for centuries. As such, it is included in daily tour Istanbul daily tour istanbul.
Yeni Camii complex
The Spice Bazaar was constructed in the 1660s as part of the Yeni Camii complex. It was built to provide rent for the upkeep of the nearby mosque, the Yeni Camii. It is located in Eminonu and began to be built during the time of Sultan Mehmet III. Sultan Mehmet IV's mother, Hatice Turhan, ordered architect Mustafa Aga to complete the Spice Bazaar, which he achieved by 1663. The historic marketplace is an "L"-shaped building, consisting of 88 vaulted rooms, almost all of which are now divided into an upper and lower storey.
When you visit the Bazaar, preferably with private tour Istanbul, you will see there are six entrances. Stone and brick were used during construction instead of wood and the bazaar has a wooden balcony for reciting the call to prayer. In the early days, the bazaar contained mostly herb stores, but in time spice-sellers, candy sellers and stores selling health products began to open here. Herb stores did not just sell herbs, they were also a kind of health consultant for people looking for herbs to heal their illnesses or who were seeking relief with herbal concoctions local guide istanbul.