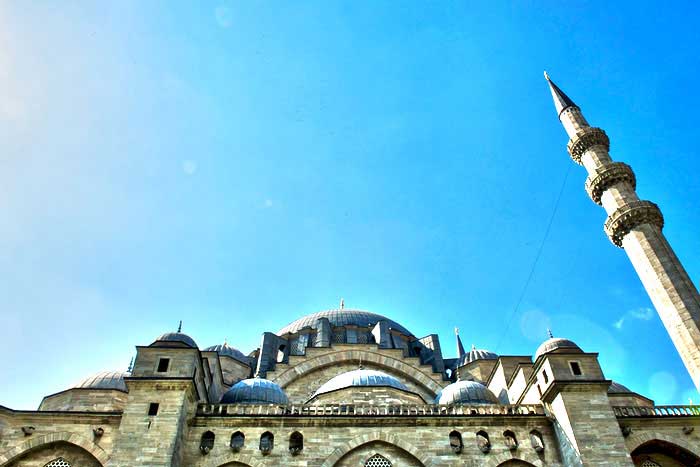 Istanbul guided private tours – An architectural masterpiece built in just 7 years
Istanbul guided private tours will take you to this architectural masterpiece created by a genius architect and a forward-looking sultan – Mimar Sinan and Suleyman the Magnificent. It inspires with its simplicity, peacefulness and serenity. The fourth imperial mosque built in Istanbul. Not the largest of the Ottoman mosques, but certainly the grandest. The Suleymaniye Mosque is a miracle worth seeing with guided Istanbul tours.
Perched on one of the seven hills of Istanbul and dominating the Golden Horn; the Suleymaniye Mosque provides an amazing view of the entire city and becomes a favourite mosque guided istanbul tours.
The Suleymaniye Mosque was built between 1550 and 1557 by the most famous and talented of all imperial architects, Mimar Sinan. In its shape it is reminiscent of Hagia Sophia, that being an inspiration for the architect Sinan. The Suleymaniye Mosque covers an area of nearly 15 acres and its dome with a dimension of 26.5 m is the second biggest dome after the dome of Hagia Sophia. It is here that Mimar Sinan achieves his goal of outdoing the dome of the Hagia Sophia. The bricks for the dome were specially designed in order to be light and 255 pots were placed between them to keep the echo in the mosque. It was Sinan who stated to Suleyman the Magnificent '… that during the Doomsday, the minaret of this mosque will not demolish but roll like a ball…'
Very worthy of the name magnificent
Contact me and let me be your guide in the complex, which is very worthy of the name magnificent (see it yourselves on Istanbul guided private tours). Besides being a worship place, this building was an education centre, a public kitchen, and a hospital. In short, it was the focus point of life. The location of 10 galleries in the 4 minarets symbolizes that Suleyman the Magnificent was the fourth sultan of Istanbul. And also he was the tenth sultan of the Ottoman Empire istanbul guided private tours.
The gardens surrounding the mosque convey peacefulness and are a good place to wander and admire the exterior of the building. Near the southeast wall of the mosque is the cemetery where the tombs of Suleyman the Magnificent and his wife Roxelana are. The magnificent sultan is buried in an elaborate tomb on the grounds, as is his wife Hurrem Haseki Sultan (Roxelana). The tilework in both is superb. Suleyman's tomb was designed by Mimar Sinan himself and is inspiring in its modesty and simplicity. In Suleyman's tomb, little jewel-like lights in the dome are surrogate stars. In Hurrem's tomb, the many tile panels of flowers and the delicate stained glass produce an effect of serenity.
Architectural masterpiece
Suleymaniye is a must that you have to put in your daily tour of Istanbul and Turkey sightseeing.
It is an architectural masterpiece worth seeing. This original masterwork completed in 7 years (unlike the construction of St.Paul's Cathedral that took 25 years or the San Pietro Square in Venice completed in 150 years) with superhuman efforts, teaches lessons to all centuries…