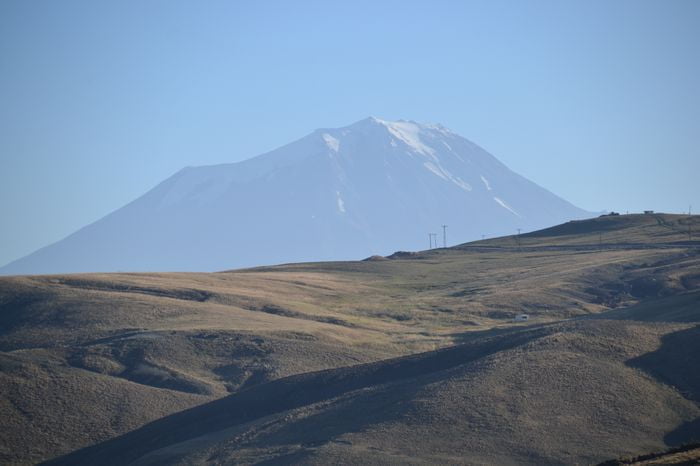 We depart for Korhan Plateau. The reason for Agri Mountain festival is the provision of recovery of this region as a touristic resort. Korhan Plateau, which has an average altitude of 2,000 meters, is located in the northeast ridges. Until 1860s,
Korhan Plateau is an important settlement area of Igdir. Following the earthquake in 1860, 50,000 people living on the plateau descended to the plain and establish the city of Igdir. This plateau. which is covered by meadows, is used a meadow for the animals of the local people.
Old Armenian Church and Korhan Settlement
When we arrive at the old Armenian church, we see a wrecked structure. The fallen stones of the church still keep their integrity, yet they are not in a condition. allowing restoration. An information plaque must be placed and the stones must be protected from external factors. It is known that there was a settlement area in the vicinity of the church, which dates back to ancient ages. In the vicinity, there are millstones, used to extract linseed oil.
Korhan Castle and Agri Mountain Festival
Following the Armenian Church, we head for the Korhan castle and the old settlement. The place we call settlement is a rocky place. Between the rooks, the cows are feeding. Many of the stones have been moved down by the people due to lack of care and protection and have been used in the construction of houses. The castle on the hill has been established by Oguz Turks In 1 lth century. There are two more remains in the ridges of the mountain, called Girl's Castle and Boy's Castle. According to the resources, the caravan trail of the First Age, traveling from Surmeli to Buyuk Agri Mountain passes between these two castles. We stay here for a very short time and continue to Korhan Plateau.
The festival, held for second time by the Governor's Office of Igdir commence.
Each village has their own tents. Here, they prepare their regional dishes and display their handicrafts. Following the homage and national anthem, dance shows of groups from Azerbaijan, Ozbekistan and Tajikistan. Spear Games and the programs of Gunay Yildiz and Ilgar Ciftcioglu, minstrels from Kars, are seen. Coban Ali and Lara present their shows in the end of the activlties, yet the rain which started suddenly, causes people to flee.
Read More about Caunians are aboriginals