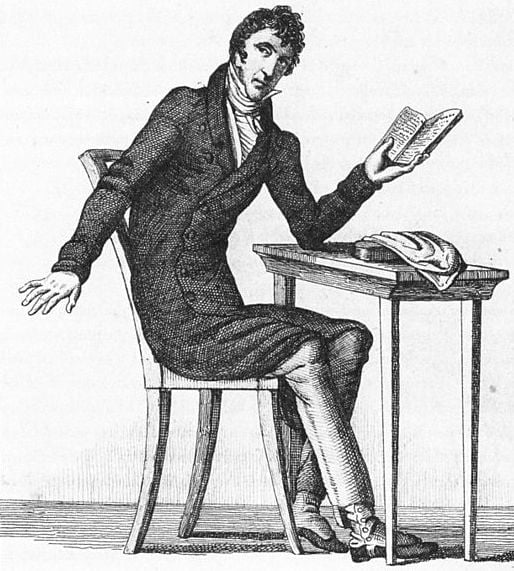 E. T. A. Hoffmann (1776—1822)
Ernst Theodor Amadeus Hoffmann was a master of one particular type of short story, which was to a great extent a product of the romantic tendencies of his times. His earliest collection of tales, Fantasy Pieces in the Manner of Callot, are characterized by those qualities of fantasy and mystery with which his name is always associated. The collection under the title of The Serapion Brethren, is set within a "frame narrative of the storytelling club in Berlin, where Hoffmann spent the last six years of his life as judge of a criminal court." Poe was especially indebted to Hoffmann in the composition of his stories, as were several of the most important Nineteenth Century fiction writers all over Europe.
The present translation, by Alexander Ewing, is reprinted from The Serapion Brethren, Bohn Library, London, by permission of the publishers, G. Bell and Sons.
The Story of Serapion
From The Serapion Brethren
"You know that some years ago I spent a considerable time in A B, a place in one of the pleasantest districts of the South of Germany. As my habit is, I used to take long walks in the surrounding country by myself, without any guide, though I should often have been the better for one. On one of these occasions I got into a piece of thickly wooded country and lost my way; the farther I went, the less could I discover the smallest vestige of a human footstep. At last the wood grew less thick, and I saw, not far from me, a man in a hermit`s brown robe, with a broad straw hat on his head, and a long, wild black beard, sitting on a rock by the side of a deep ravine, gazing, with folded hands, thoughtfully into the distance.
This sight had something so strange, unexpected, and out of the common about it that I felt a shiver of eeriness and awe. One can scarcely help such a feeling when what one has only heretofore seen in pictures, or read of in books, suddenly appears before one`s eyes in actual, everyday life. Here was an anchorite of the early ages of Christianity, in the body, seated in one of Salvator Rosa`s wild mountain scenes.
But it soon occurred to me that probably a monk on his peregrinations was nothing uncommon in that part of the country. So I walked up to him, and asked if he could tell me the shortest way out of the wood to the high road leading. He looked at me from head to foot with a gloomy glance, and said, in a hollow and solemn voice: " `I know well that it is merely an idle curiosity to see me, and to hear me speak which has led you to this desert. But you must perceive III at I have no time to talk with you now. My friend Ambrosius of (lamaldoli is returning to Alexandria. Travel with him.`
Read More about Falcon part 1